Hem lengths - Capri Pants
When choosing the most flattering length for a pair of Capri pants, there are two main elements you may wish to take into consideration. One is your personal shape and the other is overall scale, such as the rule of thirds.
Personal shape
If you chose a hem length that cuts your leg above, or in the middle of the calf, then this will draw the eye to the widest part of your leg. Those who are less keen on their calves because they feel them to be proportionally large, are likely to find that a hem length that falls just below the largest part of your calf will be more flattering. An observer will see the slimmer ankle section and make an assumption that the whole leg continues at a similar width.
If you have slim legs and calves and wish to give the illusion of your legs looking wider, then a hem length in the middle of, or above the widest part of your calf will create that effect.
If you have no particular issues with your legs, then chose the length that you prefer visually.
Overall Scale
The next element for consideration is the rule of thirds.
A longer top and shorter trousers means that an outfit can fall into the ratio of ½ and ½ and we know that even proportions are generally less flattering than uneven proportions such as ⅓ top and 2/3rds bottom.
The rule of thirds illustrates why capris can be less flattering than longer trousers for women, as you can see in the picture with the black Capri pants and the striped top.
If you have a long torso, be that a long rise, or a long waist then pay attention to the length of your top. You may need to work with a shorter top to balance the shorter length of the Capris. Having boots in the same shade as the pants, a low vamp on your shoe, heels, or a nude shoe all help to elongate the leg section and balance the proportions.
If you have longer legs then you can usually afford to wear your top a little longer as you will still be able to achieve a ratio of thirds, or at least 2/5th and 3/5th, which also works due to it being an uneven proportion.
In these examples of Sylvia, in the first picture, the proportions are approximately half and half, and both the top and the bottoms are also quite wide. This tends to be a less flattering combination.
You may wish to consider working with either a more fitted top and loose bottoms, or slimmer fit trousers and a loose top. This will show some shape rather than create a long rectangle.
The rule of thirds works in the last two outfits and having a low vamp shoe, with a heel, also increases the optical leg length.
Wearing a jacket the same color as the trousers helps to create a column of one color and hence this has an elongating effect if you have shorter proportions through the leg or body.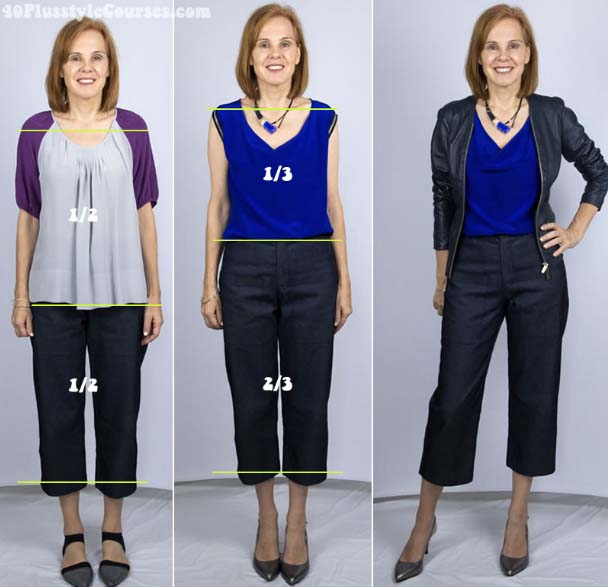 Hemlines - Skirts
As with cropped trousers, there are also two main elements to take into consideration when choosing a skirt length. One is your personal the shape and psychological comfort factor, and the other is overall scale again, the rule of thirds.
Personal shape
With skirt lengths, the psychological factor tends to be quite a big consideration for some women, and I am one of that group. I am heavy through the thigh area and I am not fond of my knees so regardless of what is in fashion, or on trend,  I will still always chose a skirt hemline that finishes no shorter than mid knee, and preferably just below my knee. I feel more comfortable that way, especially when I sit down, as skirts will ride up a little shorter than when we are stood up.
What I don't believe in, is telling women that they need to chose a certain length of skirt, after a certain age. Style is ageless and some women have great legs until very late in life so why not maximize that asset? A skirt is only too short when it doesn't feel good for you anymore.
With leg proportions, for a midi skirt, follow the same principles as you would for Capri Pants. On or above your calf if you want to draw emphasis to the widest part of your leg; and below the calf if you want to draw attention away from the widest part of your calf.
For knee length skirts, again, it depends on the shape of your knees and how much you like them on show. If your leg goes in above the knee, then having a hem line here will give the illusion that all your thigh is slim, and maximises long or slim legs.
If you go for a just below-the-knee-length skirt, where the leg dips in under the knee cap, then this gives the impression of slimmer knees, and the thighs may be slim too. In the middle of the knee cap is a good general length but bear in mind that when you sit, the skirt will be above the knee.
Rule of Thirds and Proportions
In the examples of skirts and blue tops below, you can see the impact of having proportions that are nearer to half and half, or the more generally flattering 1/3rd to 2/3rds ratio.
In the first example on the left, this is roughly 1/3rd in the shorter top, and 2/3rds skirt. If the proportions are slightly out then you can increase the skirt proportion by choosing a longer midi length skirt, a higher waistline or add heels.
If you chose a knee length skirt and a top that sits at your waist, you get a proportion of one third top, one third skirt and one third legs from the knee to the foot.
In the fourth example on the right, the proportions will be less flattering as the top is long for the skirt, and the length of leg showing beneath the skirt will be less than a third. Long tops worn with long skirts tend to make for less flattering proportions.
The second example is quite boxy and would look better if the top was worn shorter and there were heels. This would take the outfit back to one third top, one third skirt and one third lower leg.
The third example is ok, but not a great look because although it is near to one third and two thirds, the top is still a bit too long for the skirt, as this skirt is below the knee. The options here are to add heels, or go shorter with the top.
The difference a better length can make
In the example given by Greetje, in the first outfit, the skirt is more like 3/4 compared to the 1/4th top. Also the kimono cuts the outfit into 50/50 and the skirt is leather and heavy in fabric and dominates her slender figure. After alterations, the top is 2/5ths and the skirt is 3/5ths and therefore aesthetically pleasing.
But also, the leather doesn't look so heavy in a shorter style with her shins on show and is a much more flattering outfit. Her skirt length is just below the knee and it suits her very well and we assume that all of her legs are slim.
Shoes and hemlines
Here are some general guidelines:
Longer skirts generally look better with heels.
Once you have reached full length, as in a maxi dress, then the choice is yours as your shoes are generally hidden. Open toes sandals or wedges often look good with a more casual maxi style skirt. Both of these styles make the legs appear longer. Heels are more commonly worn with long evening gowns however you could still wear an embellished flat for eveing.
The shorter the skirt the flatter your shoe can be. This relates to the golden mean which is explained below.
You can wear a midi skirt with a medium heel instead of a high heel. It is more important to take into account the functionality of your lifestyle and what shoe height is both practical and comfortable for you. You don't have to always go for the perfect ratio, and if you only wear flat shoes then just try a shorter top to alter the ratios from the top rather than the bottom. Approximately is good enough. Outfits dont need to be perfect. Have a look at the examples of Sylvia in her white midi skirt below for some examples.
The lower the vamp of the shoe, the longer your legs will look.
The golden mean
Measure in centimetres from your shoulder to the floor when wearing flat shoes. Then divide this number by 1.6. Take the height answer and measure from your shoulder down to this length and this is the mathematical calculation for where your hem will look balanced with a flat shoe. It will generally be above your knee.
Repeat the process with a mid heel shoe. This will usually be around the knee area.
Repeat with a high heel. The hemline calculation will usually be under the knee.
This is based on the Fibonacci principle, however it does not take account of the fact some women will always prefer a shorter skirt, some a longer and others are happy to wear different lengths.
Personality and style preference usually trump maths when it comes to style and fashion but it is useful to know the underlying principles behind the method.
Putting it all Together
When you have been playing with outfit building and experimenting with your style for a while, you automatically know when an outfit feels a bit off. I
t may not be a major point but it might not feel quite right. The more you get to know yourself then the more likely you are to be able to spot the reason why. Ratios and proportions are a key reason so if you are aware of your own proportions and the impact that different hemlines have on your body, it can help you create more outfits that feel just right.
There are no rules here, just guidelines to help you maximize your understanding of your body and your outfits.
Here are some examples from Sylvia where she has played around with different proportions. She has a slim rectangular body, with a long torso and slightly shorter legs.
First, some older looks. Sylvia likes the dress over pants look. It elongates her body and disguises where her torso starts and ends so you don't know if she has a long torso and shorter legs; long legs and a short torso, or a balanced figure.
She also loves knee-length dresses, preferably with draping and an asymmetrical element. It hides a tiny tummy and appeals to her sense of style.
The dropped waist technically breaks the rules, elongating her torso, however this is where personality and style preferences are more important than rules or guidelines. The silhouette is still ⅓ - ⅔ by ratio.
Sylvia also loves her white pants with tops tucked in. It makes the waist look higher and creates the perfect 1/3 - 2/3 silhouette, which is further enhanced with the heels.
The look on the left is less flattering than the look on the right. This is because the low waistline of the skirt makes Sylvia's torso look longer and the top and skirt are similar lengths.
In the right hand picture, the same skirt looks much better with the waistline higher, which is created by the belt and this also adds curves. In addition, the heels elongate her legs to put her proportions back into better balance.