Handbags
As a general rule, you will look harmonious when the scale of your accesories is in proportion to your body.
You can decide for yourself whether you are a small, medium or large build. It is height and bone structure, as well as weight that makes a difference. You can be short and heavy build, tall and slim build, average height and size, or any combination of the above. Whilst you can work with a bag size that is proportional to your body size, you should also take the following into consideration:
In the evening we tend to want a smaller handbag, regardless of our build
You don't need to take out all your belonging for an evening event. Smaller handbags look elegant with evening wear.
Personality trumps harmony
If you want to be more dramatic, then go up a bag size. If you want to appear more demure, go down a bag size. If you are creative then you may want to go larger for more impact. An introvert may wish to draw less attention to themselves and therefore might chose a smaller handbag.
There is no point having a tiny handbag, if you need to carry a lot of stuff
You may choose to have a tote and a regular handbag, but if you are only taking one out, then chose a size that fits your needs. Having young children often means extra daily luggage and commuters may also require extra space, especially if they use public transport and don't have the use of a car or office drawer to store their excess items in.
The volume of your clothes can alter your scale
A small woman in voluminous clothing will make herself look bigger and therefore might want to up the handbag size.
Handbags
If you are a handbag girl, then you may have fallen in love with a bag and you should not care what size it is. Use it because you love it.
In the pictures below, you will see that Annete (The Lady of Style) is of medium build and all her accessories are also of medium size. Her handbag, her scarf, her necklace and even her earrings. They are in proportion with her scale.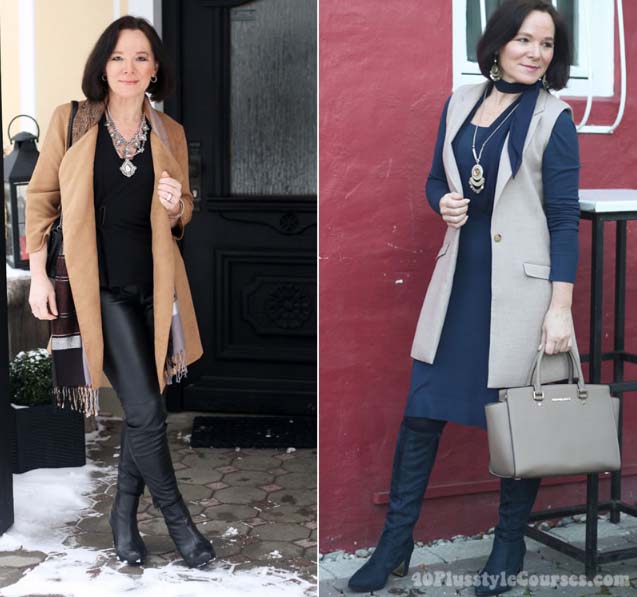 In summary, the aspects that will help you find great outfits are:
Using a full length mirror and then taking a picture of your outfit. We are more objective about ourselves in pictures than we are in the mirror.
Do you like the proportions of your outfit?
Does it emphasize your good points and pay down the ones you are less keen on?
Does it look balanced?
Would you like the outfit more if the hemline was longer or shorter? Try pinning it and taking pictures to see which length you like best. Try with different heel heights.
Once you have found a the best hemline for your trousers or skirts, make time to sew them yourself or take them to the tailor to make the adjustments so you can create your best looks all the time.
There is not one ideal silhouette. The best silhouette is the one that makes you feel great so it is not just about measurements, it is about feeling like the best version of yourself.