Learn how to dress your changing body, mix & match like a pro and get feedback from a professional stylist and color expert. Finally create a wardrobe you love!
Welcome to the 40+Style Club!
A style club especially for women over 40, who like to feel and look good.
I'm so happy you are here!
Maybe you're here because you like to have more fun with style and fashion again
Or perhaps your body has changed and you don't know how to dress it anymore
Perhaps you have fallen into a style rut and you just never feel beautiful or quite like yourself
Or you constantly make buying mistakes and have a wardrobe full of clothes but nothing to wear!
You want to know how to dress for your changing body so you look your absolute best
You want to know how to mix & match easily so you always look interesting
You want dressing to be easy and effortless
You want to stop wasting money and get a wardrobe full of things you love
You want to define your own signaure style that shows others exactly who you are
This is where the 40+Style club can help!
This club will:
Get you very clear about you style so you buy the right things and stop wasting money,
give you confidence in your body and will teach you how to dress it to your best advantage,
help you have more fun with style and grooming
and make you feel more confident about your appearance which will make you feel happier in your daily life
The style training in the club is unlike any other programmes you will find online.
We don't tell you what do do and what to like. You're going on a journey to discover that yourself through the tools and training we give you.
The support from our expert stylist Ruth in the community is top notch and with every comment from her you will be taken one step closer to a more stylish you!
With the resources you will find in the the Style Club, you will be able to dress quicker, better and cheaper so you can spend more quality time with your family, friends and the activities you love, knowing that you look amazing!
What happens when I enroll?
1. Once you join you get instant access to all current premium training  and will be given a link to join the facebook group (optional).
2. The new training is waiting for you in the club and you get instant access
3. You will find videos, a workbook and full written training and instructions on the month's topic.
4. Participate in the monthly challenges and share your workbook assignments. (optional)
Put everything that you learn to the test and get expert feedback on a daily basis in our private community!
5. Join the live online meetups.
Join the special live meetups that include coaching so you can truly understand the 5 step system towards more confidence.
6. Check out our complete library of training and videos on style, color, grooming, creating capsules and so much more! 

Sylvia van de Logt is the founder of 40plusstyle.com, the 40+Style Club and creator of the 21 Steps to a More Stylish You course.
Her site & style courses have alrready helped thousands of women over 40 ignite their style. She will be your guide in finding your own true style and live your life with confidence and joy.
Ruth Essex is our expert stylist and image consultant who will be your go-to person for style advice in the community.
She will help you define your best colors and gives detailed feedback on why particular looks work or don't work, always bearing your own personal style, personality and body shape in mind.
What Members Are Saying
Don't just take it from us, let our customers do the talking about our programs!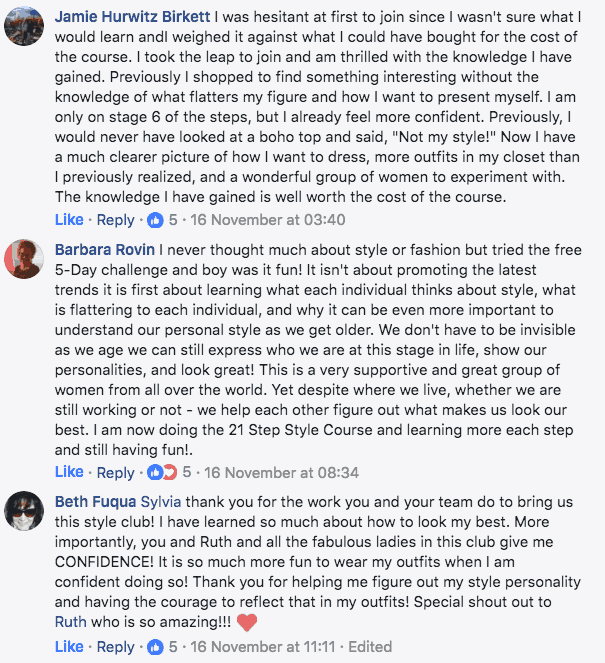 "Style is joyful if you allow yourself to have joy"
Stacey London
"The community is like having multiple personal stylists on speed dial"
This Style Course exceeded all my expectations.
Every aspect of style is treated comprehensively: clear explanations, lots of photos, related articles, fun and practical assignments and personal feedback from Sylvia.
It was also very motivating to read the posts of other participants: their contemplations, chosen outfits, learning points.
Furthermore, I learned about Pinterest and Stylebook as great tools to discover and elevate my style. I have learned so much during this course and enjoyed every single step of it. Strongly recommended!!
This course helped me better understand all the elements that went into and make up style. The assignments for each section were very helpful in thinking through what works for you as an individual.
The course isn't something that you can do quickly as the assignments took thought. Planning the outfits for each photo assignment took thought as well.
It has enabled me to be a more "conscious" dresser. I really enjoyed the course. The art of personal adornment should not be something we hate or dread, it should be fun. This course was fun!
I really enjoyed this course and learned a great deal. Sylvia designed a complete, well rounded style course, which took many components of style into consideration, such as body shape, colors, our personalities and likes and dislikes.
I have read about many other style systems, but most of them seem to want to put you in a category and I grew more and more frustrated either trying to fit into a specific category or just struggled trying to wear what was recommended for a certain category or type.
Sylvia's course allows you to really figure out what your own personal best style is and to just work with your own unique body and your own personality and I can't say how refreshing and freeing it was!
I just feel like I know what I really should and shouldn't be looking for in clothing and what I don't even need to waste my time and money on. I plan to go back and keep working through some of the sections for a while yet.
I highly recommend this course–it is definitely money well spent!!
Prior to joining 40+Style Club, I had been working on my style for 2 years. I had edited my closet down to items that were truly my style, built up my basics and had a clear vision of my style. But I was missing the fine tuning of how to put outfits together as well as taking my style to the next level.
Since joining the 40+ Style Club, I have learned about proportion and silhouette, what colors go together and why, levels of refinement and how do I put pieces together to get the most out of my wardrobe.
The input from the fabulous style mentors and women in the group is priceless. It is a safe place to ask questions, give and get feedback and truly sharpen our style skills.
still have questions?
If we didn't answer all of your questions, feel free to drop us a line anytime.