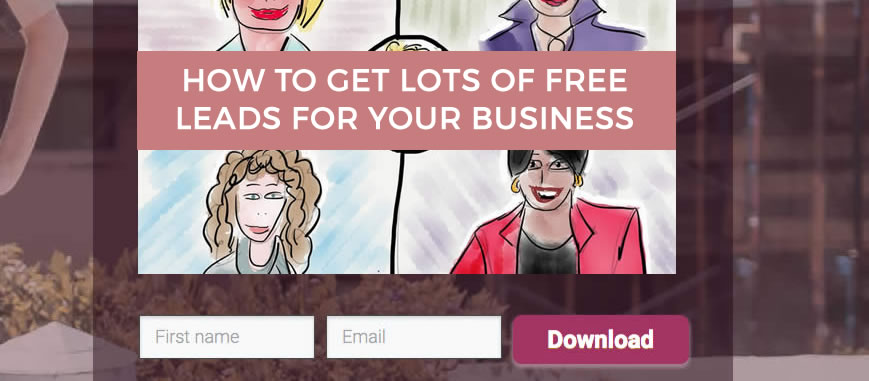 I get between 100-150 new email subscribers for my style blog a day.
Most of them are free leads and acquired due to the fact that my website receives a large amount of free traffic from Google and other search engines and because my website is optimized for lead conversion.
A few of them are acquired through Facebook ads and on average a new lead costs me 35 cents. I think I can safely say that my website has become a lead generation machine generating lots of free leads for my programs.
Why are free leads important, you may wonder?
Well, in general your email list is the engine of your business.
The only way that you can consistently make sales for your products and programmes is through your email list. It's really important that women who land on your website are reminded of its existence on a regular basis.
Yes, building a presence on social media platforms like Facebook, Instagram, Twitter and Pinterest helps, but in terms of effectiveness for selling, nothing compares to your email list.
Another extra bonus is that you can automatically follow up with your newsletter subscribers. This can be completely automated and once your autoresponder has been setup, new email subscribers will automatically get multiple personalized messages from you.
That can be really powerful, because it gives you a chance to show your customers how you can help them. You may like to direct them to lots of valuable content.
You can ask them to join a free challenge.
You can send them a really useful guide or access to a free workshop.
And eventually you can pitch them for your product or service.
In general you don't want to pitch them straight away because you will need to give your customers the opportunity to get to know you and gain trust in the services and products you provide. People buy from people that they know, like and trust so the more you share your expertise with them (and this can be done through written articles, videos, a podcast or photos) the more that they are likely to buy from you.
Below is an example of how I offer a free style challenge.
This is FREE training that I provide to visitors of my website which they can only access when they submit their name and email address.
How to generate lots of free leads for your business from your website
So now that you know the importance of an email list, how can you make sure to get more people on your list?
First, let's make one thing very clear. You don't just want anybody on your list.
You want them to be people that are very interested in your products and services and that are likely to buy. There really is no point to just have a lot of random people on your list. You want people that click on your links, comment on your posts or reply to your emails.
This is important, as an active and engaged email list will lead to higher open rates and higher click rates. The more engaged your list is, the more people will actually see your emails.
You also want people that have specifically asked to be on your list. With al the new rules now coming into place (enforced by the European union) it's now more important than ever that you can prove that someone has opted to be on your email list.
So let's get started!
Let's first look at the mechanics of getting a new subscriber and what happens afterwards.
In general the process looks as follows.
A person lands on your page.
You offer an incentive for a person to subscribe to your newsletter or guide.
The person fills in an optin form and enters their email address and optionally also their first name.
The person is directed to a Thank You page where you can provide them with more value.
The person gets a welcome email from you where you give them their free gift (optional) and introduce them to yourself.
You follow up with additional emails that help the new subscriber and build a relationship.
You send them an offer and potentially have a new customer.
The 2 key parts of getting new subscribers are:
To get someone on your page where the optin form is.
For that person to take action and subscribe.
Let's look at these two in more detail.
#1 How to get more people on your optin pages
The key is traffic.
Without traffic no-one will see your offer.
But how do you get more traffic?
This is where blogging comes in. I spoke before about the importance of blogging and it's the key to getting lots of free traffic and good traffic too!
The key to getting traffic to your site is to write articles that your customers want.
What do they need help with right now?
What would they type into Google when they want to find you?
What questions would they have (and would type into Google)?
How 40+Style gets LOTS of traffic
Let's take my fashion site as an example.
40+Style was created as inspiration for women over 40 and gives women over 40 more guidelines on how to dress. Therefore one of the most obvious questions that I started addressing right away is: 'How to dress after 40'
I created a comprehensive article around that topic.
I then made sure that this page had the title: How to dress after 40 I also created a good meta description that featured these keywords: I made sure to name that specific page how-to-dress-after-40 so that the key phrase I targeted was in the url as well.
The above are some key SEO principles and there is a lot more to say on this topic (which is beyond the scope of this article) but what you are basically trying to do is to opimize your article for search engines.
You are still writing it for your readers and customers but at the same time, you make sure that Google likes it too, so that you can get a good position in their search engine.
Since you are probably not the only person writing on this topic, you will likely have competition so getting to the top of the charts is not always easy. But once you get there, it means a lot of free traffic.
Just search in Google for 'how to dress after 40' and most likely you will find my article at the top of the list (or at least within the top 5).
Since there are plenty of women searching that phrase every single day, it gives me a steady stream of visitors to my site.
In fact I have 2 articles that show up for that phrase. Also, notice the images that come up? Most of them are mine too!
Of course this is not the only article on my site that gets traffic as I have many articles that rank high in search engines.
Therefore I get more than 400,000 monthly 'free' visitors to my site. The only reason I added the word 'free' in colons is because I still had to put in the work to actually write these articles. But other than that it's free.
Some articles I wrote 7 years ago (and that took 2 hours to write) still bring thousands of visitors to my site every month and generate consistent revenue. I don't have to pay Google for this traffic or any other network.
People search, they find me and they click through to my website. From that point onwards it's my task to get them on my email list.
Other ways to get traffic to your site and generate free leads
Of course search engine traffic is not the only way to get more people to your website (although it's by far my favorite tactic). Here are some other sources of traffic for my site:
My email list (once you build one it will provide a constant source of traffic to your site if you email them regularly)
Pinterest (the best social media referrer)
Facebook
Direct traffic (return visitors and people who have the url)
Other websites (when your content is valuable other people will link to it)
Instagram
Ads (I now also drive paid traffic to my optin pages to grow my list even faster. The average new subscriber costs me 35 cents)
#2 How to convert your traffic into new subscribers
All that traffic that comes to your site will have no effect whatsoever if you cannot persuade them to subscribe to your newsletter. That is called a conversion.
For example, if you drive traffic to a page on your site where people are asked to opt in and only about 4 out of 10 persons do this, that will give you a 40% conversion rate.
As you can imagine, that conversion rate number is important. If your conversion rate is too low, it tells you that either your offer is not good enough or your messaging and persuasion powers are not quite good enough.
It means that you may have to change the headline, change your optin offer or just make it easier for visitors to subscribe.
Let's say your conversion rate is 10%. If you drive traffic to your optin page through paid traffic and you pay $1 per click, you would have to spend $10 for just one subscriber.
If on the other hand, you can improve your conversion rate to 50%, you only spend $5 per subscriber.
Facebook ads is a whole new specialised subject matter and is an art in itself but it works closely together with your optin pages and what's on it. In Facebook you will try to get the best targeted audience and the best ads. That will ensure that your cost per click is not too high.
On your site you have to make sure that once they land on your site, you have the highest possible chance for a conversion. (right now I'm able to get new subscribers through paid traffic for 35 cents).
How do you improve conversions and convert visitors into leads?
Now that you know how important conversions are, let's look at how you can improve them.
#1 Have a great offer
This goes without saying but I still thought I would mention it here. You can have the best landing page in the world but if you have an offer that nobody wants, it will not convert.
So truly understand your target audience and know what they need help with right now.
#2 Use great copy
The writing on your conversion page is very important and specifically the headline. You want to grab people's attention with this and address one of the key problems your customers have.
What do your potential customers want to improve in their life?
For what problem do they need a solution right now?
The topic of copy writing is again a topic that deserves its own article and guide, but in general these guidelines apply:
Write headlines that evoke emotion - words like love, fear, crave etc.: e.g. Want to finally love your body? Download our free 5 step guide that will help boost your confidence instantly
Make people curious: e.g. The top 10 ways you can instantly improve your style this season
Give people a solution to an acute problem: e.g. Gained too much weight over Christmas? This 5 step workout will make you lose it in 2 weeks!
Results driven: Give people some instant wins on a problem they have: e.g. Join the FREE challenge and learn how to select the right clothes every time - no more buying mistakes!
#3 Create a page that converts your free leads
You want to make sure that the page that your opt-in form is on, converts well. In general, you want to make sure that:
Your form is above the fold (so instantly visible when someone comes on your page);
Your overall page is professionally designed with clear images and text;
You don't make people think too hard about what to do. Pointers, highlight colors and arrows can all direct the visitor;
Tell visitors exactly what to do.
Pages that convert are so important that several companies now specialize in creating landing pages. Some examples are:
Here is an example of a Leadpages template. When you click on the 'Get my house value now' button, a popup form will show where you can insert your name and email.
The advantage of a tool like Leadpages is that it will give you detailed statistics on the conversion rate of a page.
The disadvantage is that lead pages are not hosted on your own site (with your own domain) which is what I prefer.
The optin page for my Find Your Style in 10 steps Guide that I shared higher up in this article was created with Thrive Themes, as is the landing page below for my Find Your Style Challenge.
I have a membership for all the tools Thrive offers which includes Thrive Leads which is what I'm using for my popups and optin forms on my sites.
However, you can easily create these pages yourself with many other themes that include page builders. (Many popular themes like Divi - which is what I'm using for this site - will have this) and you use their plugin Bloom for popups.
There is soooo much more to say on this topic of generating free leads for your business, but this guide is already getting pretty long so I will leave you to absorb this information for now.
I hope it has given you an overview of how I generate lots of free leads for my business and how you can do the same for yours.
Any questions? Feel free to add them below!
Are you making lead generation a priority in your business? What is your preferred method?
Sylvia