Are you a coach, consultant or creative who wants to add more passive income streams to your business? Then this article is for you!
Being a coach is amazing. You help people solve their problems. You earn good money. You are passionate about your work.
However, there is a down side.
You only get paid when you work.
Most coaches work 1 on 1 with clients. If you're in high demand, you may also do group programs.
You're also not getting paid for the many hours of marketing that you do, like:
Social media marketing
Networking
blogs / articles
Ads.
The list goes on.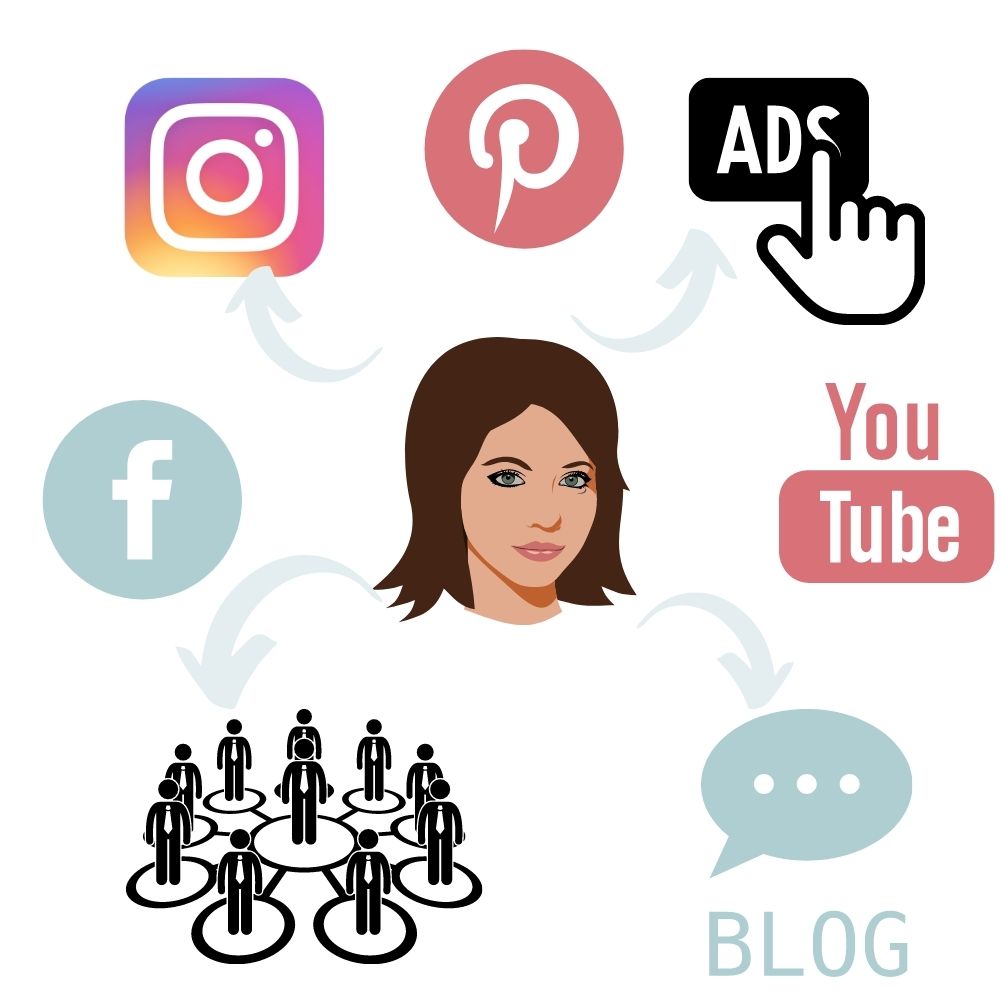 You're on a hamster wheel of promoting and coaching.
How long are you prepared to keep that wheel running?
Have you created a plan for the future when you may want to work less?
Right now is a good time to start thinking about ways you can earn the same amount of money (or more) while working a lot less.
My suggestion: add passive income streams to your business.
What are passive income streams?
Passive income streams allow you to make money even if you're not working.
Let me give you an example.
I help women improve their style. Instead of offering 1:1 coaching, I created helpful articles that help through helpful tips and strategies.
I now have a website that gets more than 450,000 visitors each month. Women come back time and time again, to get the latest style news and get new ideas.
Every time someone visits my website, I get paid through either advertising fees or affiliate commissions.
At this point there is almost nothing I have to do to earn that money.
Most traffic comes from Google and Pinterest. Articles that I published years ago still get read every single day.
I literally earn money while I sleep.
AND I'm doing that while helping thousands of women feel better about themselves and their style.
Of course, this didn't just happen. I planted many seeds years ago and they have all turned into beautiful flowers.
Passive income streams are created by action
In order to create passive income streams into your business, you need a plan of action.
I created an audience of readers and followers by creating articles that would help them. I researched what women needed help with and I answered their questions. I then learned how to get on the front page of Google so I could reach and help more women.
Creating a passive income stream involves work.
It's also not 100% passive. I still need to make sure that the website functions. I still get my team to update articles weekly. I contribute new articles from time to time.
But now I only have to spend a little time to make a lot of money. And I get to choose when I work, how much I work and where I work.
Why and how did I create my passive income streams?
10 years ago I was on the hamster wheel too.
I lived in Singapore at the time and created websites for small businesses. I helped companies with online marketing. I charged per hour or by project and only got paid when I worked.
I loved my business at first, as I loved helping businesses get successful.
It was also exhausting and not that lucrative.
If I traveled I did not get paid.
If I did marketing for my business I did not get paid.
I knew I wanted something different. I wanted my own asset. My own products.
People were always asking me for style advice and I really liked the idea of being a style coach.
That is how I got the idea for 40plusstyle. I still did one-on-work for clients, but I repurposed my marketing into articles. Those articles became the source of my current passive income.
How can coaches, consultants and creatives create passive income streams?
By now you may wonder: how does this apply to me? How can I add passive income streams to my business?
The answer: you do more with the marketing content that you already create.
As a successful coach, you create content.
You may have a podcast. You may post on Instagram. You may have a Facebook group. You may have a blog. You create videos.
You are creating lots of content to attract new clients.
But how much of that content results in ongoing organic traffic for you?
If you are posting on Instagram, a lot of that content goes to waste. No one goes through old Instagram posts.
It's the same for Facebook posts.
The social media channels are very effective in getting clients right now. They are not super helpful for future passive income streams.
Instead, you need to let your content work for you harder. You need to build a 'home' for your content (your website) and then get organic traffic to your site.
Getting more traffic to your site and building a larger audience is the key for future passive income streams. And it's not as difficult as you think.
I was able to create one of the biggest website for women over 40 from my home office in Singapore. Traffic comes from all over the world, especially the USA. There is no limit to what you can achieve with good content and an internet connection.
The benefit right now will be more customers. The benefit in the future are passive income streams.
What are possible passive income streams for coaches, consultants & creatives?
Once you have significant traffic coming to your site, you can add your passive income streams.
Here are some of my favourite passive income streams:
1. Ebooks
An easy way to add a passive income stream is to sell an ebook.
This can be a short guide of your best advice on one specific topic. An ebook is easy to create and clients can download this automatically.
2. Self study courses
A self-study course is also a good option and is sold for a higher price. Clients can buy this online and start the course immediately. An example is my 21 Steps Style course.
3. Affiliate marketing
A large part of my income comes from affiliate marketing. Almost every link on my site is an affiliate link. Every time a visitor buys something from that link, I get paid a commission.
This can be a big opportunity for coaches. You can promote complimentary products or programs. You can get paid for each referral you make to others.
4. Advertising
Advertising is another completely passive income stream once you have good traffic. All you need to do is add some simple code to your website.
If you have these passive income streams in your business you earn money on autopilot.
Other (semi) passive income streams for coaches
The following income streams can be largely passive but usually need more work than the passive income streams mentioned above.
5. Membership site
A membership will add monthly recurring income to your business. It's a great way to make your business more reliable and sustainable.
Most membership still demand plenty of work though. You need to create monthly content and need to promote your membership regularly.
6. Workbooks or calendars
Many coaches create their own workbooks or calendars, which you can sell on your site. The initial creation will be time-consuming, but once that's done, it can be an extra (largely) passive income stream.
Other income streams for coaches, consultants & creatives
These are the income streams that you are most likely already familiar with. These activities need more time but can also command a higher fees.
These are the best short-term income streams for coaches, but they are time and labour intensive.
7. Live Courses, programs or online workshops
Far from passive, this can be an effective way to scale your coaching practice.
8. One-on-one coaching
The most direct way to earn revenue is to coach one client at the time.
9. One day or multiple-day retreats
A great way to connect your customers, but it can take a lot of work to organize and promote.
What income stream should you choose?
I'm a big proponent of simplicity. That's why I recommend choosing one short term income stream focus and one long-term plan.
For your long-term plan, the most important thing is to grow your audience through traffic and connection.
You do that by repurposing your content in meaningful ways that will lead more traffic and a larger audience.
When you do more with the content you have, the benefits are many.
Increased traffic to your site and your offers
Larger email list that you own forever through organic traffic
No need for expansive ads or ad managers
Grow your audience quicker
Get found in Google
Use the content for your social networks
Set yourself up for passive income streams in the future
Create an asset that you can sell
You create a SMARTER business.
Characteristics of a Smarter business:
Systemized and scalable
Monetized with passive income streams
Aligned with your needs and those of your customers
Return on investment is high
Traffic is consistent and growing and ensures continuing demand for your service and passive income streams
Easy and fun to run. The business is not a drain on your time.
Recurring and reliable revenue, so you no longer have to go through the feast or famine cycle.
Your future you will thank you
I'm so happy I started my SMARTER business 10 years ago which now has multiple reliable income streams.
I choose the hours I work.
I can coach and create programs AND I get paid from my passive income streams.
I can even sell the business for a big number if I choose to.
My passive income alone is enough for retirement.
How can you start to create passive incomes streams?
The key is to create a S.M.A.R.T.E.R. business.
Want Sylvia to help you build a S.M.A.R.T.E.R. Business, contact her