What do you want to do when you grow up is often a question we ask our children.
What do you want to become in life?
What do you want to study?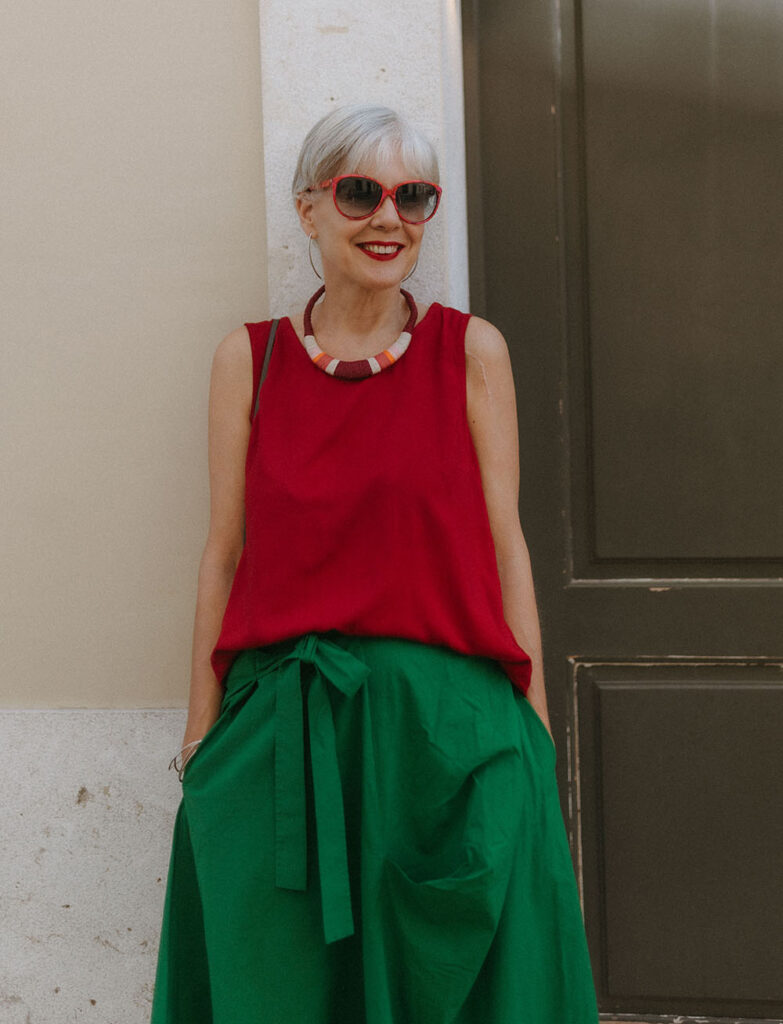 At that age and in our twenties it felt like something urgent. We had to get it 'right' because that would determine the rest of our lives.
Or would it?
I remember feeling at 27 that I had nowhere to go anymore. That I was too old to study, to change my mind, to try something new.
Luckily I got over that and went back to school and did self studies numerous times.
It's never too late to change your mind!
Now that I'm 56, I STILL feel that I can change my mind, do something completely different and reinvent myself.
Remember, I only started this site 2 years ago. I started 40+style 11 years ago. I started my web design business 21 years ago.
Who would have thought that I'm doing what I'm doing right now when I started out studying to become a kindergarten teacher in my teens.
My business is completely location independent. It affords me to travel around the world, work from anywhere and meet the most fabulous women worldwide.
All this would never have happened, had I not challenged myself, stepped out of my comfort zone and try something new.
Yet, I have found that many of you feel that you are too old to change.
Too old to try something new or try your hands on a new career or business or even a new hobby.
Too scared to do something that doesn't feel totally comfortable. Too scared to make mistakes.
Question is: are you happy with the status quo or do you feel that there is more to learn and accomplish?
That's why I'm asking you: What do you want to be when you grow up?
Perhaps you are 40 which means that likely you will still have the majority of your life ahead of you!
The same can be true for 50!
What do you want to do in that time?
What do you want to learn?
Do you want to have your own business?
Do you want to travel more?
Are you challenging yourself enough?
But even if you are 60 or even 70, you are really never too old to challenge yourself, to try something new, to add a new spark, to reinvent yourself.
I have met the most vibrant and energetic women who are in their seventies but are STILL learning each day and challenging themselves to achieve their dreams.
I decided that I want to help more women achieve their dreams.
I love to challenge people and ignite their spark.
I love to spread the message that the world is full of opportunities to explore and seize.
I love to encourage you to take responsibility for your own life and take concrete action each day to achieve your goals.
That is why, I started the True Potential Academy!
This is the place where I will share all that I have learned over the past 5 decades.
You'll benefit from the numerous lessons I have learned and my qualifications as a confidence coach and NLP practitioner.
You can also follow along on Facebook or Instagram.
I can't wait to connect with you and see how you are taking steps towards your dreams. No matter how old you are!
So tell me. What do you want to be when you grow up?
Want more clarity on all the things you still want to do in life, request my free guides on how to reinvent yourself & the bucket list guide.
Like to find out how you can reinvent yourself?
I created a free reinvention guide and bucket list for you.
Let me know in a comment below. What do you want to do when you grow up?
Continue reading: